Play

Play Next

Add to queue
Play

Play Next

Add to queue

62,147 plays

Play

Play Next

Add to queue

28,629 plays

Play

Play Next

Add to queue

24,659 plays

Play

Play Next

Add to queue

21,389 plays

Play

Play Next

Add to queue

20,323 plays
Genre: Jazz / Pop

Location NEW YORK, NEW YORK, US

Profile Views: 1907448

Last Login: 3/30/2010

Member Since 11/1/2004

Website http://www.dianakrall.com

Record Label Verve

Type of Label Major

Bio

.. .............. .. .... .... .. .. .. Cole Porter's romantic ode to great expectations (with its hip, heartening couplet, "No more blue songs/Only whoop-dee-doo songs") could not be more apt a title track for Krall's tenth album. From This Moment On is an eleven-song collection that captures the Canadian-born sensation in full swing, in great company, and at the top of her game. It could also be called her strongest, most cohesive release to date. Krall is the first to admit that the album's marked, upbeat theme was not originally her intention ("I never try to link tunes together or find songs that work together as a whole. It happens organically in the recording process, or not at all.") But she does assume credit for knowing the songs she would be recording when she, her quartet and the Clayton/Hamilton Jazz Orchestra assembled for two weeks in Los Angeles's famed Capitol Studios this spring. "I didn't really sit down with anybody prior to recording it and say, 'I think I want to do this.' I knew exactly what I wanted from the get go. I started writing down song titles last summer, but a lot of these tunes I've had in my back pocket for years. I've been working on 'How Insensitive' for about ten years. 'Day In, Day Out' I started working on when I was about 24. I mean these are all tunes that finally have found their place. "Every tune has to have some sort of personal connection. But I didn't want it all to be too upbeat – like 'Willow Weep For Me', which for me is more of a social comment, adds a question mark to that positive feeling." In songs, mood and delivery, From This Moment On reveals Krall's personal ardor for that golden era of song-making, when Frank Sinatra, Ella Fitzgerald and (especially) Nat "King" Cole were in their prime. It's musical territory that Krall has often explored, but this album was certainly not a case of simply repeating past formulas: Krall's A-team of support – producer Tommy LiPuma, engineer Al Schmitt and arranger/bandleader John Clayton – were on hand to ensure that inspiration was kept on an edge, unhindered by the studio environment. "I'm not exactly working with people who are going to just say, 'Oh it's lovely, Diana.' We never go an automatic pilot, you know? Sometimes I feel incredibly exposed during the recording process but fortunately I have the safety net of people whom I can listen to, and agree or disagree with. There's nobody hanging over me and saying you have to do this or that. But that doesn't mean that there aren't surprises and it can be an extraordinarily intense environment. The emotions can run high since people care so passionately about the music and what we are doing." .... .. .. .. .... .. .. .. .. .. ....Ringtone .. .. ......Preview...... ......Purchase...... .. .. .... .. ....You're Getting To Be A Habit With Me.. .. .. .... .... .. .. .. .... .. .. .. .. .. .... .. ....You Can Depend On Me.. .. .. .... .... .. .. .. .... .. .. .. .. .. .... .. ....Peel Me a Grape.. .. .. .... .... .. .. .. .... .. .. .. .. .. .... .. ....They Can't Take That Away From Me.. .. .. .... .... .. .. .. .... .. .. .. .. .. .... .. ....The Look Of Love.. .. .. .. .. .... .. .. .. .... .. .. .. .. .. .... .. ....The Girl In The Other Room.. .. .. .... .... .. .. .. .... .. .. .. .. .. .. .. .. ....From This Moment On.. .. .. .. .. .... .. .. .. .... .. .... .. .. .... ....Click Here for more Diana Krall Ringtones.... .... .. .. .. .. .. .. .. .. .. .. .. .. .. ..First Name.. .. (required).. .... .. .. .. .. .. ..Last Name.. .. (required).. .... .. .. .. .. .. ..Address 1.. .. (required).. .... .. .. .. .. .. ..City.. .. (required).. .... .. .. .. .. .. ..State/Province.. .. (required)...... ....-select-....Armed Forces Americas....Armed Forces Other....Alaska....Alabama....Armed Forces Pacific....Arkansas....American Samoa....Arizona....California....Colorado....Connecticut....District of Columbia....Delaware....Florida....Micronesia....Georgia....Guam....Hawaii....Iowa....Idaho....Illinois....Indiana....Kansas....Kentucky....Louisiana....Massachusetts....Maryland....Maine....Marshall Islands....Michigan....Minnesota....Missouri....Northern Mariana ....Mississippi....Montana....North Carolina....North Dakota....Nebraska....New Hampshire....New Jersey....New Mexico....Nevada....New York....Ohio....Oklahoma....Oregon....Pennsylvania....Puerto Rico....Palau....Rhode Island....South Carolina....South Dakota....Tennessee....Texas....Utah....Virginia....Virgin Islands....Vermont....Washington....Wisconsin....West Virginia....Wyoming.... .. .. .. .. ..Zip/Postal Code.. ..(required).. .... .. .. .. .. .. ..Email.. .. (required).. .... .. .. .. .. .. ..Cell/Mobile Phone.. .. (required).. .... .. .. .. ......Birthdate.. .. (required)........ ..Month.. ..January.. ..February.. ..March.. ..April.. ..May.. ..June.. ..July.. ..August.. ..September.. ..October.. ..November.. ..December.. .. / .. ..Day.. ..01.. ..02.. ..03.. ..04.. ..05.. ..06.. ..07.. ..08.. ..09.. ..10.. ..11.. ..12.. ..13.. ..14.. ..15.. ..16.. ..17.. ..18.. ..19.. ..20.. ..21.. ..22.. ..23.. ..24.. ..25.. ..26.. ..27.. ..28.. ..29.. ..30.. ..31.. .. / .. ..Year.. ..1901.. ..1902.. ..1903.. ..1904.. ..1905.. ..1906.. ..1907.. ..1908.. ..1909.. ..1910.. ..1911.. ..1912.. ..1913.. ..1914.. ..1915.. ..1916.. ..1917.. ..1918.. ..1919.. ..1920.. ..1921.. ..1922.. ..1923.. ..1924.. ..1925.. ..1926.. ..1927.. ..1928.. ..1929.. ..1930.. ..1931.. ..1932.. ..1933.. ..1934.. ..1935.. ..1936.. ..1937.. ..1938.. ..1939.. ..1940.. ..1941.. ..1942.. ..1943.. ..1944.. ..1945.. ..1946.. ..1947.. ..1948.. ..1949.. ..1950.. ..1951.. ..1952.. ..1953.. ..1954.. ..1955.. ..1956.. ..1957.. ..1958.. ..1959.. ..1960.. ..1961.. ..1962.. ..1963.. ..1964.. ..1965.. ..1966.. ..1967.. ..1968.. ..1969.. ..1970.. ..1971.. ..1972.. ..1973.. ..1974.. ..1975.. ..1976.. ..1977.. ..1978.. ..1979.. ..1980.. ..1981.. ..1982.. ..1983.. ..1984.. ..1985.. ..1986.. ..1987.. ..1988.. ..1989.. ..1990.. ..1991.. ..1992.. ..1993.. ..1994.. ..1995.. ..1996.. ..1997.. ..1998.. ..1999.. ..2000.. ..2001.. ..2002.. .. .... .. .. ..Gender.. .. (required).... .. .. Male .. .. Female .. .. .. .. .. ..Country.. .. ...... ....United States....Afghanistan....Albania....Algeria....American Samoa....Andorra....Angola....Anguilla....Antarctica....Antigua and Barbuda....Argentina....Armenia....Aruba....Australia....Austria....Azerbaijan....Bahamas....Bahrain....Bangladesh....Barbados....Belarus....Belgium....Belize....Benin....Bermuda....Bhutan....Bolivia....Bosnia....Botswana....Bouvet Island....Brazil....British Indian Ocean Territory....Brunei Darussalam....Bulgaria....Burkina Faso....Burundi....Cambodia....Cameroon....Canada....Cape Verde....Cayman Islands....Central African Republic....Chad....Chile....China....Christmas Island....Cocos (Keeling) Islands....Colombia....Comoros....Congo....Congo....Cook Islands....Costa Rica....Cote d'Ivoire....Croatia....Cuba....Cyprus....Czech Republic....Denmark....Djibouti....Dominica....Dominican Republic....East Timor....Ecuador....Egypt....El Salvador....Equatorial Guinea....Eritrea....Estonia....Ethiopia....Falkland Islands....Faroe Islands....Fiji....Finland....France....France, Metropolitan....French Guiana....French Polynesia....French Southern ....Gabon....Gambia....Georgia....Germany....Ghana....Gibraltar....Greece....Greenland....Grenada....Guadaloupe....Guam....Guatemala....Guinea....Guinea-Bissau....Guyana....Haiti....Heard Island....Honduras....Hong Kong....Hungary....Iceland....India....Indonesia....Iran....Iraq....Ireland....Israel....Italy....Jamaica....Japan....Jordan....Kazakhstan....Kenya....Kiribati....Korea, North....Korea, South....Kuwait....Kyrgyzstan....Laos....Latvia....Lebanon....Lesotho....Liberia....Libya....Liechtenstein....Lithuania....Luxembourg....Macau....Macedonia....Madagascar....Malawi....Malaysia....Maldives....Mali....Malta....Marshall Islands....Martinique....Mauritania....Mauritius....Mayotte....Mexico....Micronesia....Moldova....Monaco....Mongolia....Montserrat....Morocco....Mozambique....Myanmar....Namibia....Nauru....Nepal....Netherlands....Netherlands Antilles....New Caledonia....New Zealand....Nicaragua....Niger....Nigeria....Niue....Norfolk Island....Northern Mariana....Norway....Oman....Pakistan....Palau....Panama....Papua New Guinea....Paraguay....Peru....Philippines....Pitcairn....Poland....Portugal....Puerto Rico....Qatar....Reunion....Romania....Russian Federation....Rwanda....Saint Helena....Saint Kitts and Nevis....Saint Lucia....Saint Pierre and Miquelon....Saint Vincent....Samoa....San Marino....Sao Tome and Principe....Saudi Arabia....Senegal....Seychelles....Sierra Leone....Singapore....Slovakia....Slovenia....Solomon Islands....Somalia....South Africa....South Sandwich Islands....Spain....Sri Lanka....Sudan....Suriname....Svalbard and Jan Mayen....Swaziland....Sweden....Switzerland....Syria....Taiwan....Tajikistan....Tanzania....Thailand....Togo....Tokelau....Tonga....Trinidad and Tobago....Tunisia....Turkey....Turkmenistan....Turks and Caicos....Tuvalu....Uganda....Ukraine....United Arab Emirates....United Kingdom....United States Minor....Uruguay....Uzbekistan....Vanuatu....Vatican City....Venezuela....Viet Nam....Virgin Islands, British....Virgin Islands, U.S.....Wallis and Fortuna ....Western Sahara....Yemen....Yugoslavia....Zaire....Zambia....Zimbabwe.... .. .. .. .. .. Yes I want to find out about new tour dates, events, and new music! Please send me info on new stuff! .... .. .. .. Yes, I would like to receive text alerts about Diana Krall .... .......... .. .. ..2007 Verve Music Group, a Universal Music Company .... .. .... .. .. .. By entering your cell phone above you agree to receive SMS messages from Verve Music Group, our affiliates and partners and you are authorized to approve any applicable charges. Your carrier's standard messages rates apply to all SMS correspondence, including receipt confirmations, as applicable. Not available on all carriers. For full details, including how to unsubscribe, go to .. ..SMS Terms and Conditions .... ..Privacy Policy.. .. .. .. .. .. .. .. .... .... .. .... ..

Members

.. .. ...... .............. ...... ............ ...... ............ ...... ............ ...... ............ .. ...... ............ .. .. ...... ............ .. .. ...... ............ .. .. ...... ............ .. .. ...... ............ .. .. .. .... .. ............ .. .. .... .. ............ ..

Influences

.. .. .. .. .. .......................................................... ..

Sounds Like
04:10 | 223 plays | Oct 2 2009
Bio:
Cole Porter's romantic ode to great expectations (with its hip, heartening couplet, "No more blue songs/Only whoop-dee-doo songs") could not be more apt a title track for Krall's tenth album. From This Moment On is an eleven-song collection that captures the Canadian-born sensation in full swing, in great company, and at the top of her game. It could also be called her strongest, most cohesive release to date. Krall is the first to admit that the album's marked, upbeat theme was not originally her intention ("I never try to link tunes together or find songs that work together as a whole. It happens organically in the recording process, or not at all.") But she does assume credit for knowing the songs she would be recording when she, her quartet and the Clayton/Hamilton Jazz Orchestra assembled for two weeks in Los Angeles's famed Capitol Studios this spring. "I didn't really sit down with anybody prior to recording it and say, 'I think I want to do this.' I knew exactly what I wanted from the get go. I started writing down song titles last summer, but a lot of these tunes I've had in my back pocket for years. I've been working on 'How Insensitive' for about ten years. 'Day In, Day Out' I started working on when I was about 24. I mean these are all tunes that finally have found their place. "Every tune has to have some sort of personal connection. But I didn't want it all to be too upbeat – like 'Willow Weep For Me', which for me is more of a social comment, adds a question mark to that positive feeling." In songs, mood and delivery, From This Moment On reveals Krall's personal ardor for that golden era of song-making, when Frank Sinatra, Ella Fitzgerald and (especially) Nat "King" Cole were in their prime. It's musical territory that Krall has often explored, but this album was certainly not a case of simply repeating past formulas: Krall's A-team of support – producer Tommy LiPuma, engineer Al Schmitt and arranger/bandleader John Clayton – were on hand to ensure that inspiration was kept on an edge, unhindered by the studio environment. "I'm not exactly working with people who are going to just say, 'Oh it's lovely, Diana.' We never go an automatic pilot, you know? Sometimes I feel incredibly exposed during the recording process but fortunately I have the safety net of people whom I can listen to, and agree or disagree with. There's nobody hanging over me and saying you have to do this or that. But that doesn't mean that there aren't surprises and it can be an extraordinarily intense environment. The emotions can run high since people care so passionately about the music and what we are doing."


| | | |
| --- | --- | --- |
| Ringtone | Preview | Purchase |
| You're Getting To Be A Habit With Me | | |
| | | |
| | | |
| They Can't Take That Away From Me | | |
| | | |
| The Girl In The Other Room | | |
| | | |
Click Here for more Diana Krall Ringtones
.. .. .. .. .. .. ..
First Name   (required)
..
Last Name   (required)
..
Address 1   (required)
..
City   (required)
..
State/Province   (required)
Zip/Postal Code  (required)
..
Email   (required)
..
Cell/Mobile Phone   (required)
..
Birthdate   (required)
/ /
Gender   (required)
..  Male   
..  Female   

Country  
..   Yes I want to find out about new tour dates, events, and new music! Please send me info on new stuff!
..   Yes, I would like to receive text alerts about Diana Krall

---


2007 Verve Music Group, a Universal Music Company

..



By entering your cell phone above you agree to receive SMS messages from Verve Music Group, our affiliates and partners and you are authorized to approve any applicable charges. Your carrier's standard messages rates apply to all SMS correspondence, including receipt confirmations, as applicable. Not available on all carriers. For full details, including how to unsubscribe, go to
SMS Terms and Conditions
Privacy Policy
.. ....
..
Member Since:
November 01, 2004
Influences:
..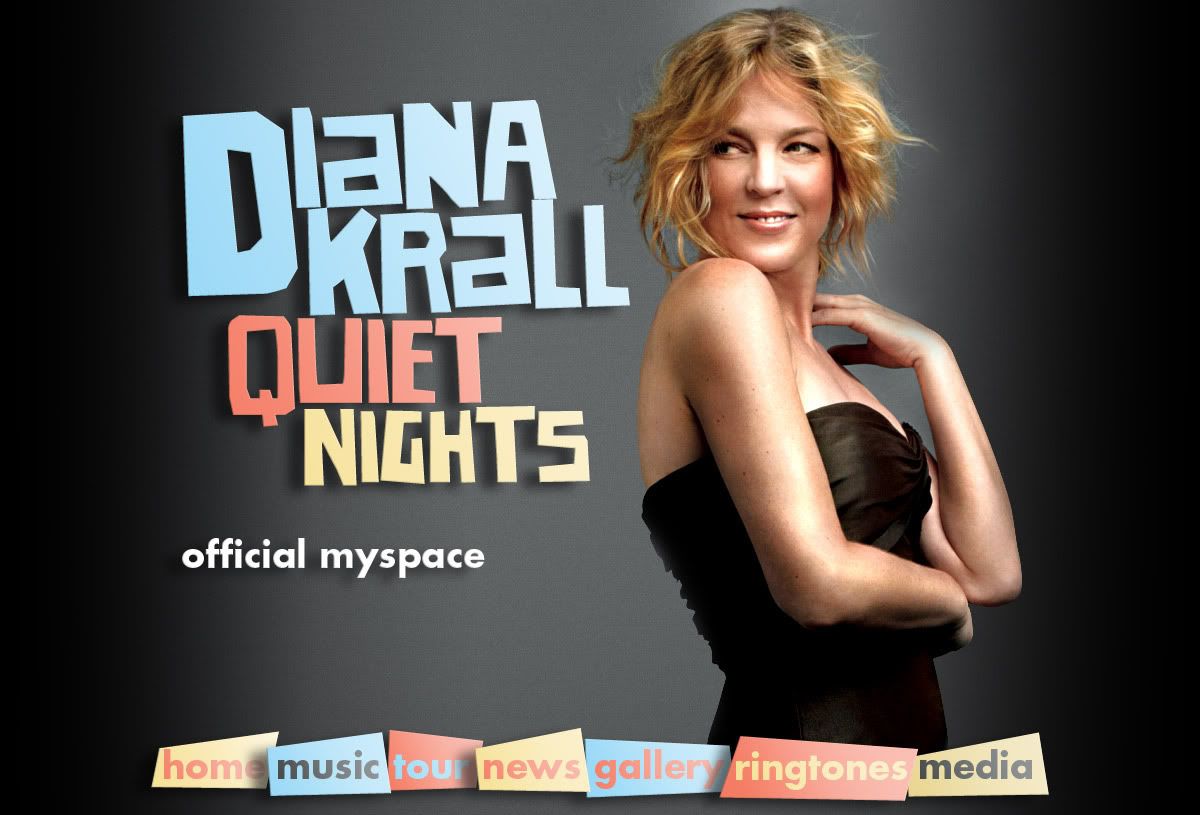 Record Label:
Verve
Label Type:
None
Diana Krall has 107788 friends.