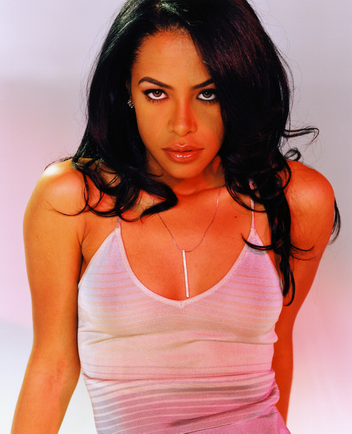 January 16, 1979- The day the angel stepped into our world and blessed us with 22 years of her indulgent life that was tragically lost at such a young age. Here pay our respects for today our babygurl would be 30 years old on the 16th of January 2009.
 
She was born Aaliyah Dana Haughton on January 16, 1979 in Brooklyn, NY to Dianne and Michael Haughton and older brother Rashad. When she was 5 years old, her and the family moved to Detroit, MI where she realized she could sing at age 6. Her mother was also a singer and began teaching Aaliyah ballads and music. She was then enrolled in private Catholic schools and productions for plays such as Annie and 42nd Street.


By the time she turned 11, Aaliyah had performed and starred in commercials and numerous plays which made her no stranger to being in front of the camera and on stage. At this time, she then performed on the hit television show Star Search singing, "My Funny Valentine." Unfortunately this young star lost by a quarter star, but that didn't stop her from pursuing her dreams.


Aaliyah's uncle, Barry Hankerson, had recently been married to singer Gladys Knight. Young Aaliyah's new aunty, Gladys had invited Aaliyah to go perform at her show in Las Vegas. She gained more experience this way and made her more comfortable on stage. In 1993, her Uncle Barry Hankerson had started to form a record company, called Blackground Entertainment. Aaliyah...was his first artist.
She was getting her first record deal at 12 years old. Barry had recently been managing R&B artist R. Kelly's music. Kelly then signed onto the record deal and agreed to write and produce music for Aaliyah and work on an album. Stardom was just right around the corner...


In August of 1994, Aaliyah had released her first platinum debut titled Age Ain't Nothing But A Number and the release of her first #1 hit single "Back & Forth" which debuted at #1 on the Hot 100 Billboard for 6 weeks along with the music video. At this time, the singer was only 14 years old and her sound and image was more mature than most expected. The album went double-platinum when the re-make of the Isley Brothers tune, "At Your Best (You Are Love)" was released it debuted at #1 for 2 weeks and was a constant hit. R. Kelly had written and produced each song on the album. Later it spawed the hit singles, "Age Ain't Nothing But A Number," "Down With The Clique," "No One Knows How To Love Me Quite Like You Do," and "The Thing I Like," which was also featured on the hit movie A Low Down Dirty Shame soundtrack. The "Back & Forth" single topped the charts for months including remixes by Mr. Lee and R. Kelly. This followed Aaliyah with doing a duet with Junior M.A.F.I.A. titled, "I Need You Tonight." "Age Ain't Nothing But A Number," was featured on Nickelodeon's show All That.


Aaliyah's First Album


"Back & Forth" Single CD


"At Your Best (You Are Love)" Video shoot featured R. Kelly
Soon after the album's release in 1995, rumors began surfacing that a marriage certificate had been released in Chicago and soon spread stating that 23 year old R. Kelly had married 15 year old Aaliyah who had faked the age of being 18. Both denied any fact of ever taking such action. Although they were a team in making music, they claimed they we're simply good friends. The media enraged the two to somewhat separate and move on to different music fields.
To Aaliyah's surprise, in 1996, she found Tim Mosley (Timbaland) and Missy 'Misdameanor' Elliot. They soon collided skills to begin to form an album. In the summer of 1996, Aaliyah's released her sophomore debut titled One In A Million and quickly released the new smash hit "If Your Girl Only Knew." Aaliyah was secure in making her image better known as mature even though she was only 17 at the time. The second single would top the charts for months to come "One In A Million," hit #1 in radio airplay. The album had sold nearly 2 million copied worldwide it's first release day and was going gold. It proved to be a multi-plaitnum selling record after the following smash hits, "Got To Give It Up," "4 Page Letter," "Hot Like Fire," and "The One I Gave My Heart To" released in 1997. Aaliyah did many collaborations with her music partners Missy Elliot and Timbaland as well as being featured on the album.


One In A Million Video
She began doing soundtrack ballads such as, "Turn The Page," from the blockbuster Music of the Heart, "Are You Ready," from Sunset Park and "IF Your Girl Only Knew," was featured on Var City Blues. In the meantime, Aaliyah had to focus on school. Then in summer 1997, she graduated from the Detroit School of the Arts with a 4.0 GPA. Soon after, Aaliyah's track recorded for the Disney soundtrack to the movie Anastasia called, "Journey To The Past," was nominated for an Academy Award. When she performed at the 1997 Academy Awards, she was recognized as the youngest African American woman to perform at the Awards at age 17. Tragedy struck when Aaliyah's close Grandmother died of Breast Cancer. Aaliyah then afterwards started donating a percentage of her album's money to start a fund called The Women of Breast Cancer Foundation now called The Aaliyah Memorial Fund.


In 1998, "Are You That Somebody?" off the Dr. Dolittle soundtrack became an instant hit and was nominated for two MTV Music Video Awards for best Female Vocals and Best Dance Video. Within the next year, she was ready for a new challenge. Movie producer and director of the Matrix, Joel Silver, signed Aaliyah on for a major role in his upcoming action flick starring Jet Li, DMX, Anthony Anderson and Isiaah Washington in Romeo Must Die. She played the role of Trish O'Day along side Han who was played by Li. The set was to take place in the San Francisco/Oakland Vicinity while most of the film was shot in London. The film hit box office records with it's release in March of 2000.


The Romeo Must Die soundtrack became u full success. It released Aaliyah's largest hit single to date and won two MTV Video Music Awards for Best Choreography and Vocals. "Try Again" marked it's history on the Billboard Charts as #1 on radio airplay for 12 weeks straight. The song was also nominated for a grammy award. The music video also features Jet Li and a series of mirrors, an exerpt from the theme of Enter The Dragon. Aaliyah also dueted with Hip Hop artist DMX, whom was also featured in the film, titled, "Back In One Piece," which the video debuted soon after. "I Don't Wanna," was another track off the soundtrack which was a hit on radio airplay and also was featured on the 1999 blockbuster Next Friday. The fourth single, "Are You Feelin' Me" was featured in the film itself.


Aaliyah and Destiny's Child


Aaliyah feat. DMX "Back In One Piece"
In September 2000, Aaliyah met Roc-A-Fella executive founder Damon Dash and soon became seriously involved.


Meanwhile, Aaliyah began working on her third studio album set for release mid next year. While at the same time, began filming for her second feature film in Australia Queen of the Damned, which was off Anne Rice's Vampire Chronicles. Also starring Stuart Townsend, Aaliyah was to fill the main role as Queen Vampire Akasha. Then Joel Silver called Aaliyah back and had her signed to star in the upcoming sequels to The Matrix pursuing the role for the character Zee. After filming the Queen of the Damned and recording the album, Aaliyah flew back to the states to be with Damon. Soon afterward, the album spawned it's first hit single, "We Need A Resolution," featuring long-time partner Timbaland. The video proved to show Aaliyah's more mature side stating that she is a woman and is not afraid to take risks. The album, self titled Aaliyah, was released in July 2001 and hit No. 2 on the Top 100 Albums Chart, topped by Alicia Keyes.


Aaliyah's self-titled album
Blackground Records soon merged with Virgin Records. Then, it was decided that the next single to be released off the album after, "More Than A Woman," was to be, "Rock The Boat." Aaliyah had now signed on to more upcoming roles in films such as the main role in the film Honey, Love Affair, Sparkle, Queen of the Damned II and a remake of the Whitney Houston Broadway Hit.
The album was mostly written and produced by Static Major from Playa, and some from Timbaland.


On August 25, 2001- Aaliyah and her crew had just finished wrapping the shoot for the video, "Rock The Boat," after shooting part of it in Miami, Florida and now flying back from the Abaco Islands in the Bahamas. Aaliyah and the crew boarded a small Cessena 402 plane at Marsh Harbour Airport. Then, shortly after take off, the plane carrying 22 year old Aaliyah and the 11 crew members on board crashed in a swamp just 200 feet from the runway bursting into flames. Two of the crew were rushed to the hospital and treated with severe burns but later died that night of severe wounds and trauma. But the rest of the passengers, including Aaliyah, died on instant.
Investigators claim that the reason for this impact was due to overweight luggage being carried on board. The other is that the pilot maintained his license to fly after it being suspended for coccaine abuse. News of her tragic death spread shock across the world, and disbelief. Many hoped it was a rumor like when Prince died. But this was different. Aaliyah was only 22 and had a bright future ahead and made a positive mark on life throughout her career.


Aaliyah and the crew's last camera shot


Aaliyah's casket was carried in a carriage by two white horses down the streets of Manhattan where thousands of fans crowded the streets to say their final goodbyes to their fallen star. The service was held in the church and while outside, the fans sang her song, "One In A Million" in tribute to her. Then, Aaliyah's mother broke into tears as 22 white doves were released into the air, one for each year of her life. Aaliyah was then buried and laid to rest at a local cemetery under her Weeping Willow Tree.
The video for Rock The Boat was released soon after her death, and became the #1 video on countdowns for months and won two MTV Video Music Awards. The song itself won a grammy award for Best Female Vocals. The video for "More Than A Woman" also won an MTV VMA in 2002 and became the #1 hit single on the Hot 100 after "Rock The Boat." The album then bumped up to #1 on the Top Best-Selling Album Chart and won an American- Music Award for Album of the Year. The single for, "I Care 4 U," was released and hit #1 on radio airplay even without a video.
In December 2002, a greatest hits album was released titled, "I Care 4 U," which also featured 6 previously unreleased tracks including the new smash hit, "Miss You." The Queen of the Damned film was released that year and hit box office records and included a tribute to Aaliyah at the end. Missy Elliot and Timbaland released tracks off their albums in tribute to Aaliyah featuring Ginuwine, Tweet, Static, Wyclef Jean and others. "Miss You" became a number one radio smash hit and the video was shot in tribute to her from fans and friends. Who knows how far this rising star could have soared. She was truly an angel, beautiful inside and out.

Aaliyah- E True Hollywood Story:
..

..




..
..

..


..