Play

Play Next

Add to queue
Genre: Alternative / Progressive / Rock

Location Melbourne, Au

Profile Views: 262128

Last Login: 12/16/2012

Member Since 11/29/2005

Website facebook.com/sleepparade

Record Label Independent

Type of Label Unsigned

Bio

Dancing With The Enemy The new teaser song from Sleep Parade available now for FREE DOWNLOAD from www.facebook.com/sleepparade. Taken from their amazing forthcoming second album INSIDE/OUT, out Feb 2013 It's been five years since Sleep Parade's critically-lauded 2008 debut, Things Can Always Change, dropped. Since then the Melbourne rock act have journeyed extensively throughout Australia as hand-picked main support for the likes of Karnivool, Cog, Dead Letter Circus, The Butterfly Effect and Porcupine Tree, as well headlining their own tours on the back of songs like Carry On and Passenger, which enjoying extensive airplay on both Triple J and Channel V. In that time, singer and lead guitarist Leigh Davies and drummer Dan Teng lost a keyboardist and a bassist, replaced the latter with Matt Delaney, and gained a second guitar player and keys man in the form of Red Black. But by the time the band hunkered down at the legendary Sing Sing Studios in 2009 to begin writing their follow-up album with acclaimed ARIA-nominated producer Forrester Savell, the shift within the band was more profound than simply a couple of line-up changes and a hefty regimen of killer live performances under their belt. Three years on, with the opening strains of their startling new teaser track, Dancing With The Enemy, it's clear we're listening an all-new Sleep Parade. As frontman and guitarsmith Leigh Davies' raspy snarl bounces off the elastic, twanged-out opening riff before glissanding into a deep, urgent groove, spangled Stratocastic chops, sanguine leadlines and lush melody, it's immediately apparent Sleep Parade are a completely different beast. "Obviously we didn't want to repeat ourselves but it wasn't like a conscious decision to change the sound," relays Teng. "As you get older and change, so do your musical tastes. So for us, paramount to the new album, was there be a heavy emphasis on vocals, melodies and harmonies." Indeed. If there is one constant that remains it is Davies' powerfully versatile voice. Wielding it with even more dynamic skill, prowess and range, his compelling melodies are augmented by rich harmonies and a kind of cracked vulnerability. As Davies put it, Dancing With The Enemy is about the constant tug o' war between the rational and the emotional, illustrated by the metaphor of a dysfunctional relationship with a lover. "The song uses the character of a woman, who represents the unconscious mind – which is full of anger and frustration – and the character of myself, who represents the conscious mind. When an individual is overtaken by the unconscious mind, it is almost an easy way out, as to stay conscious requires work and awareness. So the song describes that feeling of being out of control, feeling completely at the mercy of your emotions." So what the hell took them so long? "Well, aside from the constant touring, the songs we wrote needed time to gestate," explains Teng. "Some evolved, became something amazing and inspired us to push in new directions, while others just naturally fell away over time. We needed a chance to be really inspired as opposed to rushing this record and producing something sub-par. Our standards and the benchmark we set for ourselves as a band were really high." If INSIDE/OUT is any indication, it's a benchmark they've nailed and then some – Dancing With The Enemy is but a mere taste of the tour de force that is to come. It might've taken them three long years in and out of the studio but gone now are the sprawling prog influences of their first opus: revamped and revitalised, Sleep Parade have matured into a sophisticated, melody and harmony-heavy rock band whose multi-layered songs have been immaculately, painstakingly crafted. Stay tuned for when INSIDE/OUT drops in February 2013 and is supported by a national headline tour.

Members

..Leigh Davies:....Guitars, Lead Vocals, Programming/Synth.......Red Black:....Guitars, Backing Vocals, Programming/Synth. ......Matt Delaney:....Bass Guitar, Backing Vocals, Programming/Synth.......Dan Teng:....Drums, Backing Vocals, Programming/Synth.....contact the band: .. sleepparade@gmail.com..

Influences

Sounds Like

......
____________________________________________________________
.. ..


"With the release of 'Things Can Always Change' Sleep Parade have evolved into a heavyweight contender on the Australian prog-rock scene. A Flawless, world-class album".
Nick Snelling - Beat Magazine

Melbourne three-piece Sleep Parade's debut album Things Can Always Change was released in April 2008 through Shock Records.

The band then proceeded to tour the country for the rest of that year playing nearly 100 shows with bands such as Porcupine Tree (UK), Cog, and The Butterfly Effect.

Things Can Always Change has impressed fans and critics alike with its sonic beauty and complex arrangements.

10/10 Review - 0zProg.com
8/10 Review – Blunt Magazine
Album Of The Week – Beat Magazine



In February of 2010, Sleep Parade was once again asked by Porcupine Tree to be the sole support for their second Australian tour. The band was then able to showcase some of their newly written material, to sell out shows at some of Australia's premiere venues.

Mid 2010 sees Sleep Parade back in the studio, once again with Forrester Savell (Karnivool, Dead Letter Circus). The band has been pushing it's creativity in trying to forge a new and individual sound; still showing an obvious influence by similar progressive artists, they have turned their ears towards a lot of indie bands, local and abroad. The interesting amalgamation of two very distinct styles leaves the band in good stead to produce a truly unique album, and with Savell back at the helm, the outcome looks to be incredibly promising. Stay tuned..





The things you find on YouTube!

http://www.youtube.com/user/SP0208

..



..
Member Since:
November 29, 2005
Members:
Leigh Davies:
Guitars, Lead Vocals, Programming/Synth.
Red Black:
Guitars, Backing Vocals, Programming/Synth.
Matt Delaney:
Bass Guitar, Backing Vocals, Programming/Synth.
Dan Teng:
Drums, Backing Vocals, Programming/Synth.
contact the band:
sleepparade@gmail.com..
Sounds Like: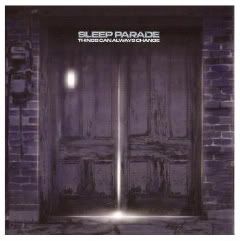 Record Label:
Independent/distro SHOCK RECORDS
SLEEP PARADE has 13297 friends.