Play

Play Next

Add to queue
Play

Play Next

Add to queue

6,071 plays

Play

Play Next

Add to queue

2,389 plays

Play

Play Next

Add to queue

1,202 plays
Genre: Alternative / Metal / Progressive

Location Glagow, UK

Profile Views: 65686

Last Login: 8/7/2011

Member Since 4/8/2005

Type of Label Unsigned

Bio

........ .. ............ Glasgow experimental rock outfit Secondskin have existed in various forms for nearly a decade and their talent and unerring dedication to achieving exactly the sound they want is unparalleled. .... The music of Secondskin combines elements of modern metal, with 70s prog. Often compared to acts as diverse as Oceansize, Pink Floyd, Meshuggah, Tool, Earthtone9 and Porcupine Tree, Secondskin appeal to the thinking music lover. .... Captive Audience boasts Secondskin's unique blend of progressive metal and hypnotising grooves, with what UKMetalUnderground.com describes as: "A powerful work that is both beautiful and unsettling all at once. The vast swathes of atmospheric guitars augmented with a judicious and convincing use of effects and the ultra-defined bass sound all meld seamlessly to offer a rich sonic tapestry that draws the listener in with a succession of seductive sounds and textures." The band have also won the support of Terrorizer magazine, who featured the track "Spoonful of Sugar" on their fear candy unsigned (71) cover-mount CD. .... Secondskin also boast a mesmerising live show which has previously earned them support slots with the likes of shels*, Cult of Luna, Glassjaw, Stand-up Guy, yourcodenameis:milo, Mindless Self Indulgence, Black Sun, Throats and Breed77. .... The band are currently busy writing the follow up album to Captive Audience which aims to shape a new reference in the progressive metal landscape. br />.. .... .. .. ...... .. .. .... .. .. .. .. .. .. .. .. .... .. .. .......... .. .. ...... .. ........ .... .. .. .. .. .. .. .............."When the euphoric peaks of Triggered Happy and Meanderthal crest, the four piece make some really cracking music"....Rock Sound........"Captive Audience, is a masterpiece of modern prog-metal.".. ..Teeth of the Divine........"..the dedication and soul that has gone into it drip from every pore ...a brave and ambitious first record"....Kerrang!........"Secondskin are one of the bands to watch out for in 2010." ....Altsounds.com........"Secondskin have a canny knack of taking complex and challenging themes and somehow managing to present them in such a way that the music sounds bright, tight and accessible "....Sea of Tranquility........"..hauntingly beautiful music providing the backing for similarly haunted-sounding vocals."....Alter the Press........"Captive Audience is an excellent record – impressive both in its ambition and in how fully the band have managed to realise their vision. Highly recommended."....OneMetal.com........ "A powerful work that is both beautiful and unsettling all at once." 9/10 ..UKMetalUnderground......"With hugely promising debut album 'Captive Audience' set to blow more than a few minds, this year could well be there for the taking for one of the UK's brightest prospects."....Soundshock........"Captive Audience, the latest release from Glasgow Prog Metal outfit Secondskin, is nothing short of stunning.".. ..Ross Allen................Visit our online merch store............... .. .. .. .. ..URL.. ....myspace.com/secondskin...... .. ..Hometown.. ....Glasgow, Scotland...... .. ..Label.. ..Self Released...... .. ..Press .. ....Lisa @Nauzeum PR...... .. ..Booking.. ....Secondskin Gigs...... .. ..Contact Us.. ....The Band...... .......... .... .. ..

Members

.. .. .. ...... .. .. ...... .. .. ...... .. .. ...... .. .. ...... .. .. ...... .. .. ...... .. .. ...... .. .. ...... .. .. ...... .. .. ...... .. .. ...... .. .. .. .. .. .. .... .... .... .... .... ............ .. .. .. ........ .. .............. ...... ...... ............ .. ...... .. .. .. .. .. .. .......... .. .. .. .. .. .. ........ .................. .. .. .... ....Signup for our Mailing List.... ....*.. required .. .... .. .. ....First name:.... ...... .. .. ....Last name:.... ...... .. .. ....Email ..*..:.... ...... .. .. ....Country:.... .. .. .. ..Please select an option..... ..UNITED STATES.. ..AFGHANISTAN.. ..ALBANIA.. ..ALGERIA.. ..AMERICAN SAMOA.. ..ANDORRA.. ..ANGOLA.. ..ANGUILLA.. ..ANTARCTICA.. ..ANTIGUA AND BARBUDA.. ..ARGENTINA.. ..ARMENIA.. ..ARUBA.. ..AUSTRALIA.. ..AUSTRIA.. ..AZERBAIJAN.. ..BAHAMAS.. ..BAHRAIN.. ..BANGLADESH.. ..BARBADOS.. ..BELARUS.. ..BELGIUM.. ..BELIZE.. ..BENIN.. ..BERMUDA.. ..BHUTAN.. ..BOLIVIA.. ..BOTSWANA.. ..BOUVET ISLAND.. ..BRAZIL.. ..BRUNEI DARUSSALAM.. ..BULGARIA.. ..BURKINA FASO.. ..BURUNDI.. ..CAMBODIA.. ..CAMEROON.. ..CANADA.. ..CAPE VERDE.. ..CAYMAN ISLANDS.. ..CHAD.. ..CHILE.. ..CHINA.. ..CHRISTMAS ISLAND.. ..COLOMBIA.. ..COMOROS.. ..CONGO.. ..COOK ISLANDS.. ..COSTA RICA.. ..COTE D'IVOIRE.. ..CROATIA.. ..CUBA.. ..CYPRUS.. ..CZECH REPUBLIC.. ..DENMARK.. ..DJIBOUTI.. ..DOMINICA.. ..DOMINICAN REPUBLIC.. ..EAST TIMOR.. ..ECUADOR.. ..EGYPT.. ..EL SALVADOR.. ..EQUATORIAL GUINEA.. ..ERITREA.. ..ESTONIA.. ..ETHIOPIA.. ..FALKLAND ISLANDS.. ..FAROE ISLANDS.. ..FIJI.. ..FINLAND.. ..FRANCE.. ..FRENCH GUIANA.. ..FRENCH POLYNESIA.. ..GABON.. ..GAMBIA.. ..GEORGIA.. ..GERMANY.. ..GHANA.. ..GIBRALTAR.. ..GREECE.. ..GREENLAND.. ..GRENADA.. ..GUADELOUPE.. ..GUAM.. ..GUATEMALA.. ..GUINEA.. ..GUINEA-BISSAU.. ..GUYANA.. ..HAITI.. ..HONDURAS.. ..HONG KONG.. ..HUNGARY.. ..ICELAND.. ..INDIA.. ..INDONESIA.. ..IRAN.. ..IRAQ.. ..IRELAND.. ..ISRAEL.. ..ITALY.. ..JAMAICA.. ..JAPAN.. ..JORDAN.. ..KAZAKSTAN.. ..KENYA.. ..KIRIBATI.. ..KUWAIT.. ..KYRGYZSTAN.. ..LATVIA.. ..LEBANON.. ..LESOTHO.. ..LIBERIA.. ..LIECHTENSTEIN.. ..LITHUANIA.. ..LUXEMBOURG.. ..MACAU.. ..MACEDONIA.. ..MADAGASCAR.. ..MALAWI.. ..MALAYSIA.. ..MALDIVES.. ..MALI.. ..MALTA.. ..MARSHALL ISLANDS.. ..MARTINIQUE.. ..MAURITANIA.. ..MAURITIUS.. ..MAYOTTE.. ..MEXICO.. ..MICRONESIA.. ..MOLDOVA.. ..MONACO.. ..MONGOLIA.. ..MONTSERRAT.. ..MOROCCO.. ..MOZAMBIQUE.. ..MYANMAR.. ..NAMIBIA.. ..NAURU.. ..NEPAL.. ..NETHERLANDS.. ..NETHERLANDS ANTILLES.. ..NEW CALEDONIA.. ..NEW ZEALAND.. ..NICARAGUA.. ..NIGER.. ..NIGERIA.. ..NIUE.. ..NORFOLK ISLAND.. ..NORTHERN MARIANA ISLANDS.. ..NORWAY.. ..OMAN.. ..PAKISTAN.. ..PALAU.. ..PANAMA.. ..PAPUA NEW GUINEA.. ..PARAGUAY.. ..PERU.. ..PHILIPPINES.. ..PITCAIRN.. ..POLAND.. ..PORTUGAL.. ..PUERTO RICO.. ..QATAR.. ..REUNION.. ..ROMANIA.. ..RUSSIAN FEDERATION.. ..RWANDA.. ..SAINT HELENA.. ..SAINT KITTS AND NEVIS.. ..SAINT LUCIA.. ..SAINT PIERRE AND MIQUELON.. ..SAINT VINCENT.. ..SAMOA.. ..SAN MARINO.. ..SAO TOME AND PRINCIPE.. ..SAUDI ARABIA.. ..SENEGAL.. ..SEYCHELLES.. ..SIERRA LEONE.. ..SINGAPORE.. ..SLOVAKIA.. ..SLOVENIA.. ..SOLOMON ISLANDS.. ..SOMALIA.. ..SOUTH AFRICA.. ..SOUTH KOREA.. ..SPAIN.. ..SRI LANKA.. ..SUDAN.. ..SURINAME.. ..SVALBARD AND JAN MAYEN.. ..SWAZILAND.. ..SWEDEN.. ..SWITZERLAND.. ..SYRIAN ARAB REPUBLIC.. ..TAIWAN.. ..TAJIKISTAN.. ..TANZANIA.. ..THAILAND.. ..TOGO.. ..TOKELAU.. ..TONGA.. ..TRINIDAD AND TOBAGO.. ..TUNISIA.. ..TURKEY.. ..TURKMENISTAN.. ..TURKS AND CAICOS ISLANDS.. ..TUVALU.. ..UGANDA.. ..UKRAINE.. ..UNITED ARAB EMIRATES.. ..UNITED KINGDOM.. ..UNITED STATES.. ..URUGUAY.. ..UZBEKISTAN.. ..VANUATU.. ..VENEZUELA.. ..VIETNAM.. ..VIRGIN ISLANDS, BRITISH.. ..VIRGIN ISLANDS, U.S... ..WALLIS AND FUTUNA.. ..WESTERN SAHARA.. ..YEMEN.. ..YUGOSLAVIA.. ..ZAMBIA.. ..ZIMBABWE.. .. .. .. .. ....City:.... ...... .. .. ....Twitter Name: .... ..@.... .. .. .. .. ...... .. .. ......Fan list management by FanBridge.com.. .... .. .. .. .. .... .. .. ....

Influences

Sounds Like
Bio:
..

Glasgow experimental rock outfit Secondskin have existed in various forms for nearly a decade and their talent and unerring dedication to achieving exactly the sound they want is unparalleled.
The music of Secondskin combines elements of modern metal, with 70s prog. Often compared to acts as diverse as Oceansize, Pink Floyd, Meshuggah, Tool, Earthtone9 and Porcupine Tree, Secondskin appeal to the thinking music lover.
Captive Audience boasts Secondskin's unique blend of progressive metal and hypnotising grooves, with what
UKMetalUnderground.com
describes as: "A powerful work that is both beautiful and unsettling all at once. The vast swathes of atmospheric guitars augmented with a judicious and convincing use of effects and the ultra-defined bass sound all meld seamlessly to offer a rich sonic tapestry that draws the listener in with a succession of seductive sounds and textures." The band have also won the support of Terrorizer magazine, who featured the track "Spoonful of Sugar" on their fear candy unsigned (71) cover-mount CD.
Secondskin also boast a mesmerising live show which has previously earned them support slots with the likes of shels*, Cult of Luna, Glassjaw, Stand-up Guy, yourcodenameis:milo, Mindless Self Indulgence, Black Sun, Throats and Breed77.
The band are currently busy writing the follow up album to Captive Audience which aims to shape a new reference in the progressive metal landscape. br />
"When the euphoric peaks of Triggered Happy and Meanderthal crest, the four piece make some really cracking music"
Rock Sound
"Captive Audience, is a masterpiece of modern prog-metal."
Teeth of the Divine
"..the dedication and soul that has gone into it drip from every pore ...a brave and ambitious first record"
Kerrang!
"Secondskin are one of the bands to watch out for in 2010."
Altsounds.com
"Secondskin have a canny knack of taking complex and challenging themes and somehow managing to present them in such a way that the music sounds bright, tight and accessible "
Sea of Tranquility
"..hauntingly beautiful music providing the backing for similarly haunted-sounding vocals."
Alter the Press
"Captive Audience is an excellent record – impressive both in its ambition and in how fully the band have managed to realise their vision. Highly recommended."
OneMetal.com
"A powerful work that is both beautiful and unsettling all at once." 9/10
UKMetalUnderground
"With hugely promising debut album 'Captive Audience' set to blow more than a few minds, this year could well be there for the taking for one of the UK's brightest prospects."
Soundshock
"Captive Audience, the latest release from Glasgow Prog Metal outfit Secondskin, is nothing short of stunning."

Ross Allen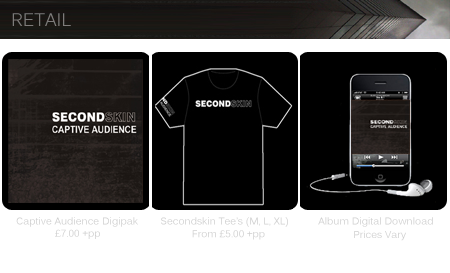 Visit our online merch store...

URL

Hometown

Press

Booking

Contact Us

..

..
Member Since:
April 08, 2005
Members:
..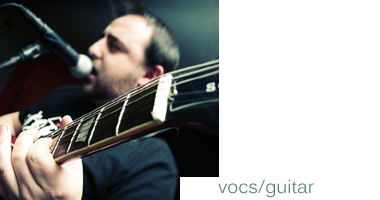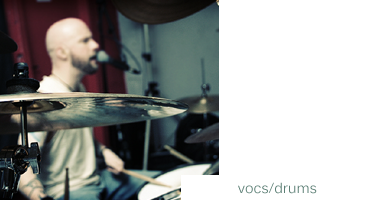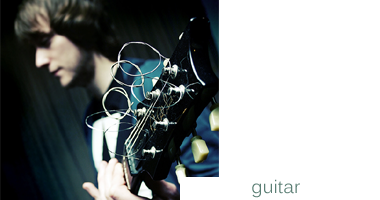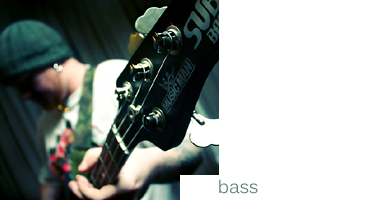 ..
Signup for our Mailing List

* required

First name:

..

Last name:

..
..

Country:

City:

..

Twitter Name:

@..
..
..

..
Secondskin has 17985 friends.