Play

Play Next

Add to queue
Play

Play Next

Add to queue

721 plays

Play

Play Next

Add to queue

139 plays

Play

Play Next

Add to queue

807 plays

Play

Play Next

Add to queue

74 plays

Play

Play Next

Add to queue

91 plays
Genre: R&B / Reggae / Rock

Location Santa Fe, New Mexico, Un

Profile Views: 32751

Last Login: 1/4/2011

Member Since 12/13/2004

Website www.thesapphiremusic.com

Type of Label Unsigned

Bio

Formed in early 2004 as a rock band derived from Celestial Ecstacy, the lineup of Sapphire initially comprised Carlo Armendariz, The Duke & Roland Garcia. While writing/recording new music & playing the circuit in northern New Mexico the trio released "The Virgin Album" in July 2004, an 18 song compilation with special guest appearances. In January 2006 Sapphire released "Crazy Lover" a six song Ep. The Band is currently giging in the northern New Mexico music scene and working on their new album "Off the Ground"... ...... ......

Members

.. The Duke ..- Vocals, Drums .. .. Carlo ..- Vocals, Guitars .. .. Roland ..- Vocals, Bass ..

Influences

.. The Sixties, The hip-hop revolution, Pop Culture, Abbey Road, The Female Universe, The Beatles, Bob Marley & the Wailers, The Doors, Santana, Pink Floyd, Led Zeppelin, Sublime, The Gypsy Kings, Fleetwood Mac, Al Green, Red Hot Chili Peppers, Nirvana, No Doubt, Luther Vandross, Bobby Caldwell, Jimi Hendrix, Janis Joplin, Carol King, Antonio Carlos Jobim, Guns n Roses, The Chi-Lites, Stevie Wonder, Al D. Meola, Bob Dylan, Kanye West, Common, Pearl Jam, AudioSlave, John Lennon, Wings, Paul McCartney, Bjork, Andrea Bocelli, Frank Sinatra, George Martin, DMB, David Bowie, Michael McDonald, The Doobie Brothers, The Rolling Stones, Black Sabbath, Ozzy Osbourne, George Harisson, The Beach Boys, Ray Rivera, Cock Eyed Johnny, Dino Padilla, The Jackson 5, Andres Segovia, Tony Rivera, Marvin Gaye, Tribe Called Quest, Gangstar, KRS 1, Outkast, Radiohead, Alkaholiks, Slightly Stupid, Jr Gong, Mad Lion, Snoop Dogg, Steely Dan, 2 Pac, Biggie, Wu-Tang, N.W.A., Dr. Dre, Ice Cube, Eazy E, Ice T, The Police, The Cars, Bone Thugs, Queen, Aerosmith, George Michael, Louis Armstrong, Fred Astaire,Tom Petty, Timberland, Poncho Sanchez, Tito Puente, Shelia E, Roy Orbinson, Manu Chao, Frank Pretto y Paranda, Lumbre de Sol, Los Lobos, Maxi Priest, Sting, Elton John, Celestial Ecstacy, Coldplay, Suzanne Vega, Mozart, Jodeci, Inner Circle, Nat King Cole, Elvis Prelsey, Little Richard, Ray Charles, Eric Clapton, The Animals, Earth Wind & Fire, Heatwave, Sade, Smokey Robinson, Hector Lavoe, Ben E. King, Timbaland, Anita Baker, Paco de Lucia, Stevie Ray Vaughn, Paul Simon, Buddy Holly, John Coltrain, Miles Davis, Richie Valens, Armando Perrazo, Michael & Janet Jackson, Bee-Gees, Kool & the Gang, Dizzy Gillespie, Johnny Cash, Ravi Shankar, The Eagles, Cypress Hill, U2, Enigma, Latin Playboys, Elvis Crespo, The Roots, Traveling Wilburies, Damien Rice, Maroon 5, Oasis, Foo Fighters, Malo, Brian Setser Orchestra, El Chicano, Steel Pulse, Say Anything, Plane white T's, Peter Bjorn & John, Tesla, The Scorpions, White Snake, James Brown, The Supremes, Motown, James Taylor, etc.,etc.,etc. .... ..........

Sounds Like

.. Magic
No recent updates in this category.
Why not...
Bio:
..
....
..
Formed in early 2004 as a rock band derived from Celestial Ecstacy, the lineup of Sapphire initially comprised Carlo Armendariz, The Duke & Roland Garcia. While writing/recording new music & playing the circuit in northern New Mexico the trio released "The Virgin Album" in July 2004, an 18 song compilation with special guest appearances. In January 2006 Sapphire released "Crazy Lover" a six song Ep. The Band is currently giging in the northern New Mexico music scene and working on their new album "Off the Ground"...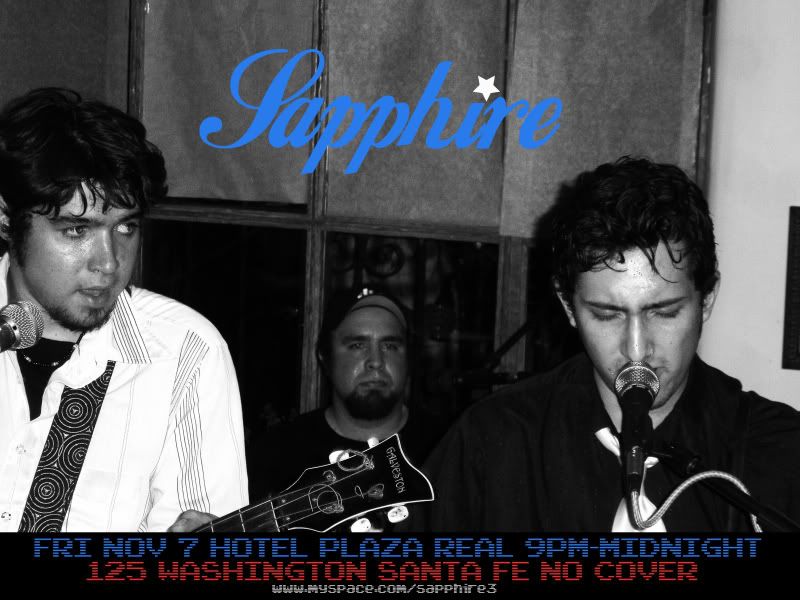 Member Since:
December 13, 2004
Members:
The Duke - Vocals, Drums

Carlo - Vocals, Guitars

Roland - Vocals, Bass
Influences:
The Sixties, The hip-hop revolution, Pop Culture, Abbey Road, The Female Universe, The Beatles, Bob Marley & the Wailers, The Doors, Santana, Pink Floyd, Led Zeppelin, Sublime, The Gypsy Kings, Fleetwood Mac, Al Green, Red Hot Chili Peppers, Nirvana, No Doubt, Luther Vandross, Bobby Caldwell, Jimi Hendrix, Janis Joplin, Carol King, Antonio Carlos Jobim, Guns n Roses, The Chi-Lites, Stevie Wonder, Al D. Meola, Bob Dylan, Kanye West, Common, Pearl Jam, AudioSlave, John Lennon, Wings, Paul McCartney, Bjork, Andrea Bocelli, Frank Sinatra, George Martin, DMB, David Bowie, Michael McDonald, The Doobie Brothers, The Rolling Stones, Black Sabbath, Ozzy Osbourne, George Harisson, The Beach Boys, Ray Rivera, Cock Eyed Johnny, Dino Padilla, The Jackson 5, Andres Segovia, Tony Rivera, Marvin Gaye, Tribe Called Quest, Gangstar, KRS 1, Outkast, Radiohead, Alkaholiks, Slightly Stupid, Jr Gong, Mad Lion, Snoop Dogg, Steely Dan, 2 Pac, Biggie, Wu-Tang, N.W.A., Dr. Dre, Ice Cube, Eazy E, Ice T, The Police, The Cars, Bone Thugs, Queen, Aerosmith, George Michael, Louis Armstrong, Fred Astaire,Tom Petty, Timberland, Poncho Sanchez, Tito Puente, Shelia E, Roy Orbinson, Manu Chao, Frank Pretto y Paranda, Lumbre de Sol, Los Lobos, Maxi Priest, Sting, Elton John, Celestial Ecstacy, Coldplay, Suzanne Vega, Mozart, Jodeci, Inner Circle, Nat King Cole, Elvis Prelsey, Little Richard, Ray Charles, Eric Clapton, The Animals, Earth Wind & Fire, Heatwave, Sade, Smokey Robinson, Hector Lavoe, Ben E. King, Timbaland, Anita Baker, Paco de Lucia, Stevie Ray Vaughn, Paul Simon, Buddy Holly, John Coltrain, Miles Davis, Richie Valens, Armando Perrazo, Michael & Janet Jackson, Bee-Gees, Kool & the Gang, Dizzy Gillespie, Johnny Cash, Ravi Shankar, The Eagles, Cypress Hill, U2, Enigma, Latin Playboys, Elvis Crespo, The Roots, Traveling Wilburies, Damien Rice, Maroon 5, Oasis, Foo Fighters, Malo, Brian Setser Orchestra, El Chicano, Steel Pulse, Say Anything, Plane white T's, Peter Bjorn & John, Tesla, The Scorpions, White Snake, James Brown, The Supremes, Motown, James Taylor, etc.,etc.,etc.

Sapphire has 5080 friends.