Play

Play Next

Add to queue
Play

Play Next

Add to queue

1,432 plays

Play

Play Next

Add to queue

4,411 plays

Play

Play Next

Add to queue

4,019 plays

Play

Play Next

Add to queue

7,345 plays

Play

Play Next

Add to queue

4,791 plays
Genre: Folk / Pop / Trance

Location Moscow, RU

Profile Views: 75442

Last Login: 4/16/2011

Member Since 7/7/2006

Type of Label Major

Bio

............ .......... .......... ........ .. "Russki Sbornik" is a page where vintage meets modern, creating a unique blend, a cocktail, where Russian culture, art, literature & music are represented in the most appealing manner... Enjoy this Russian cocktail: a unique blend of folk Russian culture mixed with modern/edgy Russian music and sprinkled with some Soviet influences, of course with ogurchik on the side :)... ......♥♥♥.. .............. ...... .. .. .. .. .. .. .. .. .. ............ ...... ................♥♥♥......Victoria's Secret Fashion Show 2005....Sexy Russian Babes........ .. .. .. .. .. .................. ..♥♥♥......Sasha Dith "Russian Girls"........ .. .. .. .. .. ...................... ♥♥♥................ ..♥♥♥.. .. ....Myspace Layout Stealer...... ..

Members

........

Influences

..♥♥♥.... ..............♥♥♥.... .. ..............True Russian delicacy...black caviar...mmm.........♥♥♥.... ..............Current Russian president Medvedev with former Russian president (current Prime Minister) Putin.........♥♥♥.... ..............Soviet girls do it better.........♥♥♥.... ..............Vintage photo of Russian supermodel Natalia Vodianova.........♥♥♥......Russian supermodel Eugenia Volodina in Victoria's Secret Fashion Show...................♥♥♥..................OPI Russian Collection.........♥♥♥................Russian supermodel Sasha Pivovarova.........♥♥♥......Russian Supermodel Irina Shayk (Shaykhlislamova) .... ............♥♥♥.. ..............Na senovale.........♥♥♥....

Sounds Like
No recent updates in this category.
Why not...
Bio:


"Russki Sbornik" is a page where vintage meets modern, creating a unique blend, a cocktail, where Russian culture, art, literature & music are represented in the most appealing manner... Enjoy this Russian cocktail: a unique blend of folk Russian culture mixed with modern/edgy Russian music and sprinkled with some Soviet influences, of course with ogurchik on the side :)...
♥♥♥
♥♥♥
Victoria's Secret Fashion Show 2005
Sexy Russian Babes
♥♥♥
Sasha Dith "Russian Girls"
♥♥♥
♥♥♥
Member Since:
July 07, 2006
Influences:
♥♥♥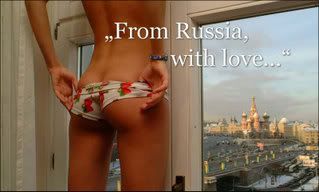 ♥♥♥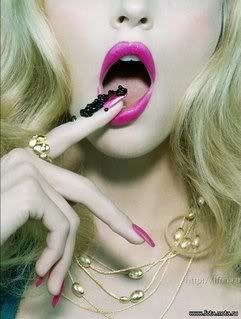 True Russian delicacy...black caviar...mmm...
♥♥♥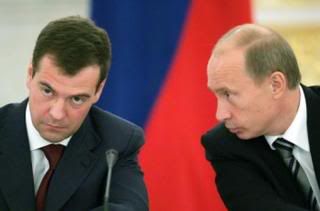 Current Russian president Medvedev with former Russian president (current Prime Minister) Putin...
♥♥♥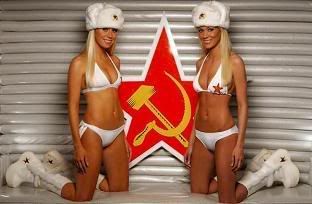 Soviet girls do it better...