Play

Play Next

Add to queue
Label
: Battle Axe Records
Play

Play Next

Add to queue

6,368 plays

Play

Play Next

Add to queue

115 plays

Play

Play Next

Add to queue

105 plays

Play

Play Next

Add to queue

114 plays

Play

Play Next

Add to queue

30 plays
Genre: Hip Hop / Indie / Rap

Location BUSHWICK, BROOKLYN, Un

Profile Views: 504846

Last Login: 9/10/2012

Member Since 9/18/2004

Website facebook.com/whoisfreestyle

Record Label 9Tens / Arsonists / Bridging The Gap Music / I AM HIP HOP / Snowgoons

Type of Label Indie

Bio

Members

Influences

In no particular order: My Mom, The rough streets of Brooklyn in the 80s, Rakim, Michael Jackson, Graffiti Artists & Breakers, KRS One, School, Sports, Kenneth "Babyface" Edmonds, Big Daddy Kane, Science & Technology, Kool Moe Dee, Grandmaster Caz, The Great Outdoors, Salt-N-Pepa, Public Enemy, Carl Sagan, Shabazz The Disciple, Jacques Cousteau, DJ Premier, New Hiphop Artists & Producers, Wu-Tang Clan, Movies, Kid-N-Play, The Arsonists (DJ Spin One, Q-Unique, D-Stroy, Swel, Jise, Kinetic NRG, Candie, Ching Rock, Kriminal Krash)..

Sounds Like
Bio:
.. ..
I am Freestyle
"The Long Road to Classic" on iTunes. Click the iTunes button to purchase!..

"Etched in Stone" on iTunes. Click the iTunes button to purchase!..

..BIO

..


If you ask any Hip-Hop purist what a "freestyle" is, they'll say it's a self-possessed talent requiring a level of cerebral vigor that most emcees do not have. Meaning to improvise quick-witted lyrics on the fly, the name is exalted through this talented emcee straight out of Bushwick, Brooklyn.




Formerly of the acclaimed super group The Arsonists, Freestyle brings a wealth of experience to the forefront. Still young in his late 20's, one could mistake his polished flow and clever lyrics for styles inherently associated with the legends in the game. He already displays a refined cadence coupled with a gregarious flow and a universally raw flavor.

Freestyle has always been enamored with music. In his youth, he lived out his musical mission by imitating Michael Jackson, breakdancing, and learning to rhyme. This hunger for perfecting the artform shadowed him as he's progressed towards adulthood. He began freestyling at the age of 10 and in 1988, being influenced and encouraged by a friend, he started writing. "Livin' in Brooklyn at that time bred 'hiphoppers' and one of my good friends wrote his rhymes down. I helped him with his and he dug my input so he BEGGED me to start writin' my own. After that, IT JUST HAPPENED!"

After winning several battles, the most prominent being NYC Zulu Nation Battle Champ 3 years in a row, he has rightfully christened his name and earned his crown. Soon there after, Freestyle stepped away from the battlefield and shifted focus towards composing and writing authentic hip-hop tracks.

Fast-forward to the mid-late 90's and you'll find that Free, along with fellow members of The Arsonists, has already established himself globally yet in the underground hip-hop community. The street buzz snowballed after The Arsonists' first single, "The Session", dropped in 1996 on Bobbito's Fondle Em Records. This now-classic track put the quintet from Crooklyn on the map and exposed Free to the greater arena.




Free's production prowess on the boards is equally as formidable as his lyrical talent. For starters, he developed the idea for the hauntingly gripping Venom in 1997, which was the group's 2nd single. Then he set it off on the seminal underground banger for 1998 - Blaze - which solidified The Arsonists' reputation as the quintessential Hip-Hop group. When their debut album, "As the World Burns", dropped in 1999 on Matador Records, Freestyle's involvement was instrumental from start to finish and can be detected on the head-nodding tracks he produced and rhymed on. The list includes Backdraft, Worlds Collide, Halloween, Sh*t Ain't Sweet, Flashback, Sha-Boing, & Frienemies.

Since 1995, Free has toured at least half of the planet with the likes of Shabazz the Disciple, Swedish rap champions Loop Troop, Germany's hip-hop pioneer Torch, and the Wu-Tang Clan, developing a strong following in his wake. Wherever he goes or no matter whom he tours with, Freestyle's charisma is evidently visible on and off the stage.

In addition to doing shows with groups like The Roots, DJ Premier, Public Enemy, EPMD, Sean Lennon, and Crazy Town, to performing at festivals with such acts as Gypsy Kings, Black Sabbath, Tori Amos, Limp Bizkit, and Kraftwerk, touring has helped broaden Free's appreciation for the diversity that's present in music today. Having been featured in all the major magazines such as The Source, Vibe, Stress, and Rap Pages, Free has established a fanbase that transcends all city barricades.

During his downtime, Free maintains his down-to-earth demeanor by spending time with his family, playing fantasy sports on the internet, and indulging in some video gaming. He has even acquired a reputation for personally answering each and every fan email sent to him.

Anyone saying that rappers are all about "sex, money, drugs, & violence" CLEARLY has not met this unique individual from the streets of Medina. He is the living example of what a rap star should and can be.

Written by Qwantum FizX & Abby1ILL




..



Live in Bucharest, Romania

The Reality Show Tour @ Regensburg, Germany

..Discography Images

..

I am Freestyle

Member Since:
September 18, 2004
Influences:
In no particular order: My Mom, The rough streets of Brooklyn in the 80s, Rakim, Michael Jackson, Graffiti Artists & Breakers, KRS One, School, Sports, Kenneth "Babyface" Edmonds, Big Daddy Kane, Science & Technology, Kool Moe Dee, Grandmaster Caz, The Great Outdoors, Salt-N-Pepa, Public Enemy, Carl Sagan, Shabazz The Disciple, Jacques Cousteau, DJ Premier, New Hiphop Artists & Producers, Wu-Tang Clan, Movies, Kid-N-Play, The Arsonists (DJ Spin One, Q-Unique, D-Stroy, Swel, Jise, Kinetic NRG, Candie, Ching Rock, Kriminal Krash)
Sounds Like:
Logos Apeilh & Freestyle - Countdown (OFFICIAL VIDEO)
D-Stroy & Freestyle SMASHIN' SHIT! @ Zurich, Switzerland
Arsonists - "Pyromaniax"

..
'Can't Let You Go' - Dustin Montie in 'Yesterday's Future'
'Carry On' - The Under Attack Tour: Season 2, Episode 7
ATTENTION ALL SUPPORTERS!!!
copy/paste this code to put my banner on ur page
dont worry, its not all big n crazy...
some people like to put da entire music player on their page, so heres da code to my music player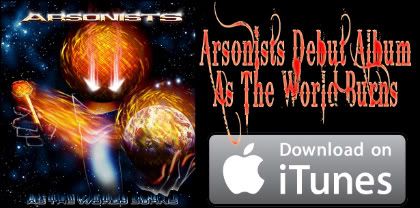 Click to listen to Arsonists Radio - WASF through Winamp or Itunes, Windows Media Player, RealPlayer, or QuickTime Player
"The Long Road to Classic" on iTunes. Click the iTunes button to purchase!

"Etched in Stone" on iTunes. Click the iTunes button to purchase!..

I am Freestyle
Record Label:
9Tens
Label Type:
Indie
Freestyle - www.iamhiphop.gr has 40013 friends.