Play

Play Next

Add to queue
Play

Play Next

Add to queue

553 plays

Play

Play Next

Add to queue

245 plays

Play

Play Next

Add to queue

826 plays

Play

Play Next

Add to queue

190 plays

Play

Play Next

Add to queue

137 plays
Genre: Death Metal / Metal / Thrash

Location São Paulo, São Paulo, BR

Profile Views: 8773

Last Login: 5/15/2012

Member Since 6/18/2007

Website http://www.lastfm.com.br/music/DISCORDIA+%28BRA%29

Record Label ..unsigned

Type of Label Unsigned

Bio

...... } .. Formado em 2006 como um projeto-solo, DISCORDIA surge como um novo nome na Música Pesada Brasileira, iniciando uma busca por seu próprio espaço. A demo auto-produzida "The ultimate Degradation" (2007) mostra aquele que será o caminho principal (mas não único) da proposta musical da banda: unir o death metal old school com passagens mais técnicas e fazer uso das influências musicais, porém buscando manter uma identidade e sonoridade próprias. ........ Formed in 2006 as a solo-project, DISCORDIA rises as a new name on the brazilian heavy music scene, beggining its search for its own space. The self-produced demo "The ultimate Degradation"(2007) shows the main (but not only) way of the band's musical view: join the old school death metal with more intrincated, technical-oriented passages, using the musical influences, though searching for its own identity and sound. ........ ........ .. .. .. .. .. .. .. .... You've been marked on my visitor map! Click to zoom in... .. .... Get your own map at ..hit2map.com.... .. ......

Members

.. ...... ..Felipe - Guitar/ Vocals.. Juan Azevedo - Bass / Vocals .. Junior "Brujo" - Drums

Influences

.. Tons of different Metal bands

Sounds Like

.. Death Fucking Metal
No recent updates in this category.
Why not...
Bio:
.. } .. Formado em 2006 como um projeto-solo, DISCORDIA surge como um novo nome na Música Pesada Brasileira, iniciando uma busca por seu próprio espaço. A demo auto-produzida "The ultimate Degradation" (2007) mostra aquele que será o caminho principal (mas não único) da proposta musical da banda: unir o death metal old school com passagens mais técnicas e fazer uso das influências musicais, porém buscando manter uma identidade e sonoridade próprias. ..
..
Formed in 2006 as a solo-project, DISCORDIA rises as a new name on the brazilian heavy music scene, beggining its search for its own space. The self-produced demo "The ultimate Degradation"(2007) shows the main (but not only) way of the band's musical view: join the old school death metal with more intrincated, technical-oriented passages, using the musical influences, though searching for its own identity and sound. ..
..
..
..
You've been marked on my visitor map! Click to zoom in.

Get your own map at
hit2map.com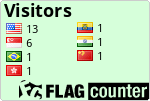 Member Since:
June 18, 2007
Members:
..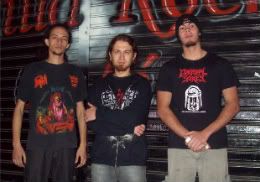 ..Felipe - Guitar/ Vocals.. Juan Azevedo - Bass / Vocals .. Junior "Brujo" - Drums
Influences:
.. Tons of different Metal bands
Sounds Like:
.. Death Fucking Metal
Record Label:
..unsigned