Play

Play Next

Add to queue
Genre: Hip Hop

Location Representing World Wide, United Nations of Hip Hop, ID

Profile Views: 133891

Last Login: 4/2/2013

Member Since 7/4/2006

Website http://amp.channelv.com/dipnetwerk

Type of Label Major

Bio

...... .... "winner .. The Multi-National and Cross-Continental group known as The Diplomats International is taking Indonesian Hip Hop to new heights. The "buzz" is building strong for this underground Jakarta-based Hip Hop crew with members across 7 countries. .. .. Fronted by Mistah, Vandal and TeCh'1, each emcee brings their own unique style, while blending English and Indonesian lyrics over the production of DJ Nasa and collaborations with Indonesian Reggae Ambassador Ras Muhamad. The Diplomats' mission is to provide fresh new sounds, incorporating Traditional Indonesian rhythms with a plethora of Hip Hop styles. .. .. With the release of «Just Duit! Vol.1», their independent DIPNET Mixtape and their performance at Java Jazz 2007 the crew's DIY motto is making serious waves in the Industry and local Hip Hop scene. The Diplomats International have received over 90,000 plays on their Myspace page since debuting 2 year ago and have just released their debut album admist some major changes within the group. Diplomats member and Emcee/Producer Vandal has released his 2nd solo album TROACO in Singapore, Malaysia and Indonesia. His latest single, Lalala (produced by Saykoji) was in high rotation on Malaysian radio and is featured in the film Susahnya Jadi Perawan, which was released in Indonesia. .. .. With a solo album in the works, Diplomats Emcee Mistah continues to turn up the grime factor another notch with his numerous collaborations, Battles and featurings with international artists. His solo LP is due to be released in early 2010. .. .. Also in the works on their Solo album are Diplomats Emcees TeCh..1 & Gold Mountain. TeCh..1 who resides in Singapore, has been working alongside previous DMC Dj Champions, DJ Rattle and DJ Tang, he is the resident emcee at Ministry Of Sound Singapore. Gold Mountain who holds the fort in Hong Kong has been busy performin in Singapore and Hong Kong, with his production work, he has been working alongside CantoPop artistes in Hong Kong. .. .. Working together with the Soul Menace crew, Mistah and Vandal recently got together with DJ Cream, pDouble and Rudi Twisted to put together the Rewind Mixtape Vol.1 & 2, as well as the Blowfish Mixtape for the club in Jakarta. .... ..You should create your own ..MySpace Layouts.. like me by using ..nUCLEArcENTURy...COM's ..MySpace Profile Editor..!.. .... .. .. .. .. .. .. .. .. .. ..

Members

Vandal (Canada) - Emcee/Producer.... Mistah (Indonesia) - Emcee.... DJ Nasa (Indonesia) - DJ.... Adinda (Indonesia) - Emcee/Singer.... Tech1 (Singapore) - Emcee.... Gold Mountain (Hongkong) - Emcee.... Illsteez (Malaysia) - Producer.... Scope (Singapore) - Graffiti Artist.... Cider (Thailand) - Graffiti Artist.... Esok (Singapore) - Graffiti Artist.... Jest (Singapore) - Graffiti Artist.... Ceno (Singapore) - Graffiti Artist.... Obi-Wan (Singapore) - Producer.... DJ Nesh (Malaysia) - DJ.... ......

Influences

Sounds Like

INTERNATIONAL HIPHOP
No recent updates in this category.
Why not...
Bio:
"winner
The Multi-National and Cross-Continental group known as The Diplomats International is taking Indonesian Hip Hop to new heights. The "buzz" is building strong for this underground Jakarta-based Hip Hop crew with members across 7 countries.
Fronted by Mistah, Vandal and TeCh'1, each emcee brings their own unique style, while blending English and Indonesian lyrics over the production of DJ Nasa and collaborations with Indonesian Reggae Ambassador Ras Muhamad. The Diplomats' mission is to provide fresh new sounds, incorporating Traditional Indonesian rhythms with a plethora of Hip Hop styles.
With the release of «Just Duit! Vol.1», their independent DIPNET Mixtape and their performance at Java Jazz 2007 the crew's DIY motto is making serious waves in the Industry and local Hip Hop scene. The Diplomats International have received over 90,000 plays on their Myspace page since debuting 2 year ago and have just released their debut album admist some major changes within the group. Diplomats member and Emcee/Producer Vandal has released his 2nd solo album TROACO in Singapore, Malaysia and Indonesia. His latest single, Lalala (produced by Saykoji) was in high rotation on Malaysian radio and is featured in the film Susahnya Jadi Perawan, which was released in Indonesia.
With a solo album in the works, Diplomats Emcee Mistah continues to turn up the grime factor another notch with his numerous collaborations, Battles and featurings with international artists. His solo LP is due to be released in early 2010.
Also in the works on their Solo album are Diplomats Emcees TeCh..1 & Gold Mountain. TeCh..1 who resides in Singapore, has been working alongside previous DMC Dj Champions, DJ Rattle and DJ Tang, he is the resident emcee at Ministry Of Sound Singapore. Gold Mountain who holds the fort in Hong Kong has been busy performin in Singapore and Hong Kong, with his production work, he has been working alongside CantoPop artistes in Hong Kong.
Working together with the Soul Menace crew, Mistah and Vandal recently got together with DJ Cream, pDouble and Rudi Twisted to put together the Rewind Mixtape Vol.1 & 2, as well as the Blowfish Mixtape for the club in Jakarta.
..You should create your own
MySpace Layouts
like me by using
nUCLEArcENTURy
.COM's
MySpace Profile Editor
!..
Member Since:
July 04, 2006
Members:
Vandal (Canada) - Emcee/Producer
Mistah (Indonesia) - Emcee
DJ Nasa (Indonesia) - DJ
Adinda (Indonesia) - Emcee/Singer
Tech1 (Singapore) - Emcee
Gold Mountain (Hongkong) - Emcee
Illsteez (Malaysia) - Producer
Scope (Singapore) - Graffiti Artist
Cider (Thailand) - Graffiti Artist
Esok (Singapore) - Graffiti Artist
Jest (Singapore) - Graffiti Artist
Ceno (Singapore) - Graffiti Artist
Obi-Wan (Singapore) - Producer
DJ Nesh (Malaysia) - DJ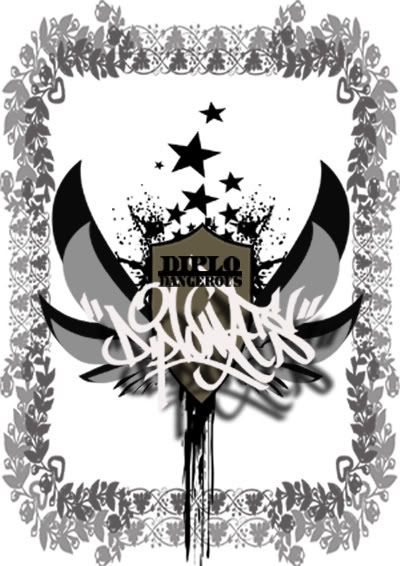 Sounds Like:
INTERNATIONAL HIPHOP