No recent updates in this category.
Why not...
Yvonne Goss hasn't earned any badges yet... have you?
General

Be A Voice Youtube Video SILENT CHILD YOUTUBE VIDEO THE SILENT CHILD The Silent Child She sits alone in her room and wipes away her tears Hiding beneath the covers so no one else hears ~ She wraps them tight around her to shut out all her pain Praying if there is a God to make her safe again. She snuggles deep into her bed holding the covers tight Cuddling her little teddy bear she leaves on the light ~ She waits for the assurance that all has gone to bed Then settles into slumber so she can dream instead. She wakes at the sound of footsteps walking down the hall Then he stops outside her room and opens up the door ~ She shivers with her childlike fear as she starts to cry Knowing what he has come here for though she doesn't know why. He tells her she is special that she's his little girl As he pulls back the covers into her silent world ~ He says that it's their secret the special game they play For no one else would understand; they'd just take him away. She lay there in her silence with her clothes on the floor Trying not to think of it as the tears slowly fall ~ She hears the clock ticking as her mind drifts away Her teddy bear beside her where he also lay. She wonders why he comes to her in the middle of the night When he should be with mummy holding her so tight ~ She listens to him tell her that she will be to blame If anyone discovers their special secret game. She pulls up the covers as he rises from her bed Tweaking at her little nose and kissing her forehead ~ She watches as he dresses as he tells her once again This is their little secret; she mustn't say a thing. She watches as he leaves her room and closes the door And listens for his footsteps walking back down the hall ~ Then she cuddles up to teddy and cries her silent tears Beneath her soiled covers so no one else can hear. And as she lay in her silence with her tear-filled eyes Each time that he comes to her a part of her dies ~ So she curls up in her bed and hugs her teddy tight And prays that he will never come to her again at night. "Child sexual abuse (incest), unfortunately, is a very real issue in today's society. Many children endure this, and it haunts them for many many years to come. A parent is a role model, an example, and this form of abuse is an abuse of power....a child looks up to their parents, they are a child's security, the child loves their parents and it is a shame to see that their only security abuses them. It is so sad to see that this sort of behaviour is what many children have learnt from. This poem is not written from personal experience but from looking through the eyes of a child. Please, help stop child abuse of any form ~ they are little angels who still need their wings to learn to fly." BE A VOICE...FOR THE SILENT CHILD!!!!!!! YVONNE'S PODCAST ..

Click here to get your own player.

Music

WORDS TO BE A VOICE THERE'S A PAINFUL TRUTH IN OUR WORLD WE'VE GOT TO FACE. FOR TOO LONG WE'VE IGNORED THEIR DESPERATE CRY. PLEASE CONSIDER THE COST,

ANOTHER INNOCENSE THATS LOST. WE HAVE TO SPEAK FOR THE CHILDREN

,

BE THEIR VOICE BE A VOICE FOR THE ONES WITH NO CHOICE

,

FORCED TO LIVE IN A WORLD THEY CANNOT CHANGE. AND BE A LIGHT IN THEIR DARKNESS

,

A TRUSTING HAND THAT THEY CAN HOLD. BE A VOICE FOR GOD'S CHILDREN

,

BE A VOICE CAN YOU HEAR THE VOICE OF THE INNOCENT CRYIN OUT. RESCUE ME FROM THE EVIL ALL AROUND ME

,

AND MAKE MY WORLD AS IT SHOULD BE

,

A LOVING HOME WHERE I CAN GROW FREE

,

RESCUE ME BREAK THE SILENCE

,

BE MY VOICE BE A COMFORT TO THE INNOCENT

,

THE PURE IN HEART THE MEEK. OH WE HAVE TO SPEAK THE TRUTH

,

ONLY THE TRUTH WILL SET THEM FREE

,

SET THEM FREE

,

OH BE A VOICE FOR THE ONES WITH NO CHOICE

,

FORCED TO LIVE IN A WORLD THEY CANNOT CHANGE AND BE A LIGHT IN THIER DARKNESS

,

A TRUSTING HAND THAT THEY CAN HOLD. BE A VOICE FOR GOD'S CHILDREN

,

BE A VOICE BE A VOICE

,

BRING HIS LIGHT INTO THEIR DARKNESS

,

BE A VOICE

,

ITS NEVER TOO LATE TO MAKE A CHANGE

, BE A VOICE 1/06 NEW VISION LINK

Copy this code to your website to display this banner!
Play

Play Next

Add to queue

Play

Play Next

Add to queue

Play

Play Next

Add to queue

Play

Play Next

Add to queue

Play

Play Next

Add to queue
About me:
Hello, My name is Yvonne Goss. The story of my sexual abuse started before the time of reason I was told. My three sisters and I were molested by our father from toddlers until our teens. I truly do feel that focusing on who we are now, and where the journey to healing has led us, is far more productive than reliving the abuse that we endured. I am a survivor. For many years I still thought of myself as a victim. And in doing that, I wasn't able to heal. My abuse was something that I never talked about. Only a part of my past that I wanted to block out. It wasn't until one of my daughters was molested by a Sunday School teacher that I had to look at my childhood, and face it. In doing so I believe that I have gone from a victim to a survivor. I married my high school sweetheart when I was 17. He has been my knight in shining armour. We have been married for 23 years now. We have 5 daughters and the kind of life and home that I always dreamed of. God has truly blessed me with my wonderful family. I love to see just how much my husband loves his girls. It makes my heart dance to see a father's love like that. I sing with a traveling gospel group called New Vision. I have been with them for 10 years now. I feel that God put me in that group to be able to share my story and my song with others. I have written a song about abuse called "Be A Voice", written in January of this year. Its something that God gave to me after I prayed and cried out to Him as to what I could do to help children that are suffering the same abuse that I suffered with growing up. My goal is not only to help survivors with the words to my song, but to try and make a difference in the lives of future victim's of abuse. My sisters and I prosecuted our father back in 1999 for the abuse we suffered. As hard as that whole process was, I think it was another chapter in our healing. Its also where the song "Be A Voice" came from. I have such a strong desire in my heart to help children now. I think that the little girl in me is the motivation for that. I pray that God uses me to help others. I feel that in writing and sharing my life I am being a voice for my sisters and I, for fellow survivors, and most importantly, for the children. In order to let them know that they are not alone and that there is a trusting hand out there for them to hold. HARD CANDY TRAILER MILEY DOING HER PART TO BE A VOICE!!!
THE GIFT featuring the song "Be A Voice" is now available at
cdbaby.com

i'm a member of child predator busters
View my page on CHILD PREDATOR BUSTERS
MY THREE SISTERS AND I ARE SEXUAL ABUSE SURVIVORS AT THE HAND OF OUR FATHER. I HAVE 5 DAUGHTERS AND ONE OF THEM WAS ALSO MOLESTED BY SOMEONE THAT WE KNEW AND TRUSTED. WE WENT THROUGH THE PROSECUTION PROCESS WITH BOTH MY FATHER AND THE ONE THAT MOLESTED MY 8 YEAR OLD AT THE TIME. IT WAS NOT AN EASY THING TO DO. BUT SOMETHING THAT HAD TO BE DONE. IT WAS THE START OF HEALING FOR OUR FAMILY I TRULY BELIEVE. I WANT TO DO MY PART IN BEING A VOICE FOR CHILDREN. TOGETHER WE CAN MAKE A DIFFERENCE AND CHANGE THE WORLD THAT THEY ARE FORCED TO LIVE IN! I WANT CHILDREN TO KNOW THAT THEY HAVE RIGHTS. THEY CAN SPEAK OUT AGAINST THOSE THAT PREY UPON THEM. I WANT THEM TO KNOW THAT THEY HAVE JUST AS MUCH POWER AS THE OFFENDERS DO. WHETHER THAT OFFENDER BE A STRANGER, TEACHER OR EVEN THEIR FATHER. WE HAVE TO EDUCATE THEM AND MAKE THEM AWARE THAT THEY HAVE A VOICE. I WROTE A SONG ABOUT ABUSE IN FEBURARY OF 2006 WHEN MY I CAME BACK FROM MY FATHERS FINAL PAROLE HEARING. HE WILL BE OUT IN AUG. OF 2007. I SING WITH A GOSPEL GROUP CALLED NEW VISION AND WE HAVE "BE A VOICE" IN OUR LINEUP. I HAVE THREE OF MY GIRLS SINGING WITH ME. I HAVE MANY PEOPLE THAT COME UP TO ME AFTER CONCERTS SHARING THEIR STORIES OF ABUSE. AND I ALSO HAVE THOSE THAT LOOK AT ME WITH GLARING EYES FOR HAVING THE "NERVE" TO SING ABOUT SUCH THINGS IN CHURCH. TO THAT I SAY....OH WELL. ITS NOT GONNA STOP ME FROM SINGING AND SPEAKING ABOUT INCEST AND OTHER FORMS OF SEXUAL ABUSE. AS LONG AS I CAN SING...THAT'S WHAT I'M GONNA DO. I HAVE FINALLY FOUND MY PURPOSE ON THIS PLANET. I FINALLY FEEL LIKE WHAT MY SISTERS AND DAUGHTHER AND I WENT THROUGH WAS NOT IN VAIN. MY GOAL IS TO NOT ONLY BRING AWARENESS WITH MY SONG. BUT TO HELP SURVIVORS LIKE MYSELF TO HEAL. BY HEALING OURSELVES, WE CAN THEN HELP CHILDREN THAT STILL FACE THE HORRIFFIC THINGS THAT WE ENDURED GROWING UP. IT HAS TAKEN ME A LONG TIME TO REALIZE THAT GOD WILL USE ME, JUST AS I AM, WITH ALL MY FAULTS AND FEARS AND HANGUPS. I CAN STILL BE A VOICE AND HOPEFULLY MAKE A DIFFERENCE FOR THOSE INNOCENT ONES THAT WE ARE SUPPOSED TO BE PROTECTING! IT'S OUR JOB AS HUMAN BEINGS TO GET INVOLVED. IT'S TIME TO BREAK THE SILENCE AND LET THESE MONSTERS KNOW THAT WE ARE UNITED IN THIS WAR AGAINST OUR CHILDREN! WE NO LONGER CALL OURSELVES VICTIMS BUT SURVIVORS.....SO PREDITORS BEWARE!!!! THE TABLES ARE BEING TURNED. ENOUGH IS ENOUGH!!! BACKGROUND href="
http://www.msplinks.com/MDFodHRwOi8vd3d3LmhvdHByZW1hZGVsYXlvdXRzLmNvbS8=
">
..
Hot Premade Layouts
-
Music Bands
-
Animals
-
Movies
.. ..
I edited my profile at
HotPremadeLayouts.com
. check out these
Myspace Layouts!
FOR HELP CONTACT: .. START COPY PASTE HERE --> Darkness to Light is a non-profit organization whose mission is to reduce the incidence of child sexual abuse by shifting the responsibility of prevention from children to adults. The mission is accomplished through an award winning media campaign that raises public awareness and directs adults to educational tools. The tools teach adults how to prevent, recognize and react responsibly to child sexual abuse and include the
7 Steps to Preventing Child Sexual Abuse
and the consciousness training based
Stewards of Children
curriculum. For more information on how you can help prevent child sexual abuse, please visit
www.darkness2light.org
. .. END COPY PASTE HERE --> youtube of "BE A VOICE" at telethon podcast page
I have written a song about abuse called "Be A Voice" that talks about incest. Incest is a very ugly word still in our world. But its a painful reality for far too many innocent children. LINK TO MY PERSONAL PAGE

BE A VOICE VIDEO be a voice/dancer ..
Add to My Profile
|
More Videos
new vision in concert "be a voice"
Be a Voice w/dance
Add to My Profile
|
More Videos
LINK TO MY PERSONAL PAGE

Dear innocent one, I am writing this letter to any child out there that has gone through or is going through sexual abuse. First of all I have to let you know that you are STILL that precious, innocent child. Nothing can ever take that away from you. What you have gone through or are going through now is NOT a reflection of who you are. I want you to know that you have the right to BE A VOICE for yourself! You have the right to be treated the way a child should be treated. To be loved unconditionally. To be protected at any cost. I want you to know that you have the ability to change the world that you live in. No matter who is abusing you, be it a stranger, teacher, or a family member. You have the RIGHT not to be abused or mistreated. I'm begging you to please, please find someone that you can trust and tell. And if they don't believe you, tell someone else. And you keep on telling until someone hears you. If you want to write to me, I PROMISE YOU that I will not only believe you, but I will do everything in my power to help you. Please believe that there is hope. There is a life out there that you deserve and are worthy of. Telling someone is the key to unlocking that door. Give yourself a gift that you deserve. Give youself the gift of freedom. Tell someone, please! In His love, Yvonne mgoss@ec.rr.com BE A VOICE! Dear Parent, We have the most important job that was ever given to a human being on this planet. That is the job of being a parent. The children that God untrusts us with, depend on us not only for their survival as young ones growing up, to be loved and protected. But also for their very make up of who they will one day become as adults. Too many fathers and mothers abuse the privilage of being a parent. They treat the gift that they have been given so carelessly. My entire being aches for those who have parents that are too selfish to think above thier own needs. Those that would harm a child for their own pleasure. Those who would neglect a child and put themselves above that trusting childs needs. Whether you are a survivor of any kind of abuse; be it physical or sexual, or you were blessed with loving, caring parents. I'm begging you to stand with me, and lets make this world a world that is worthy of the innocent. It's our job as human beings. Start by being the kind of parent that your child deserves. And second, don't turn a blind eye to those children around you. Love them, protect them, cherrish them for the precious gifts that they are! In His love, BE A VOICE! contact code ..
I made my layout with the
Myspace Background Maker
. Get
myspace layouts
,
graphics
, and
flash toys
at
pYzam
.
Yvonne Goss singing Be A Voice for Oprah Karaoke Challenge
http://www.youtube.com/watch?v=ydPjpV4B8N8
Who I'd like to meet:
___________________________________________________________ child predator busters banner
Visit CHILD PREDATOR BUSTERS
JOANNAS VIDEO
(I love you Joanna Doane),
Yvonne
......
..
Make an on-line slide show at

www.OneTrueMedia.com
.... gal banner
Copy this code to your website to display this banner!
be a voice ribbon Make your
custom magnet
at
SupportOurRibbons.com
archives banner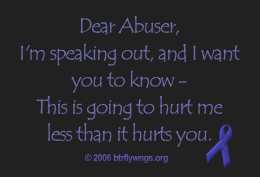 ___________________________________________________________
__________________________________________________________
SupportOurRibbons.com
___________________________________________________________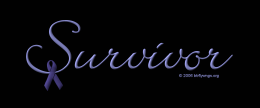 ___________________________________________________________
__________________________________________________________
___________________________________________________________
Be a Voice
Add to My Profile
|
More Videos
___________________________________________________________
Be a Voice w/dance
Add to My Profile
|
More Videos
Status:

Married

Here for:

Networking

Orientation:

Straight

Zodiac Sign:

Scorpio

Children:

Proud parent

Smoke / Drink:

No / No